Well, the cold weather didn't take long to set in did it? It's been freezing in Teesside this week. And if those guys at the Met Office are to be believed, it's been just as cold for you too, wherever you live in the UK.
Yep, winter's here early and it's sticking around until well into the New Year, so we're just going to have to deal with it. Fortunately, there are a few tried-and-trusted winter warmers to help us do just that!
Potato & Leek Soup
Soup is classic winter warmer food; easy to make and instantly rewarding – proper cockle warming stuff. Scottish Mum's creamy potato and leek recipe requires minimal prep and is bowl-ready within half an hour. Serve with a sprinkling of parsley and some crusty bread.
Image: Scottish Mum
Beef and Onion Cottage Pie 
Great British Chefs' Adam Byatt adds star anise and cloves to this hearty, festive dish – two inconsequential ingredients on the face of it, but each of which adds something unique. This recipe is best served in individual dishes, but loses none of its appeal when dished out from a large casserole dish.
Image: Great British Chefs
Panettone Bread and Butter Pudding 
A lot of the recipes we're suggesting here are quite substantial, but if there's room for dessert, we'd like to suggest this mincemeat and cherry filled bread and butter panettone recipe by Sainsbury's. Perfect with a glug of custard.
Image: Homemade By You
Panforte 
You don't need to wait until the Coca-Cola truck comes on the TV or Slade plays on the radio to break out the Christmas cake; you have our permission to enjoy this panforte any time you like. Joy of Baking's fruity recipe yields a chewy, textured dessert that's very different to traditional Christmas cake, in the best possible way.
Lancashire Hotpot
No matter how cold or miserable you are, coming home to a big old pan of Lancashire hotpot bubbling away on the stove makes everything right with the world. Kitchen Sanctuary's recipe stays true to tradition: succulent lamb and veg in a meaty gravy, beneath a bed crispy potatoes. It's a recipe that's worked for 200 years, and that isn't about to change anytime soon.
Image: Kitchen Sanctuary
Bangers and Mash 
Cumberland sausages, mashed Maris Pipers and onion gravy made from scratch – it doesn't get any better than Bangers and Mash. Homemade By You's recipe adds petit pois peas to its version of this family favourite; feel free to swap them for baked beans if those are more your thing.
Image: Homemade By You
Chocolate Pear Pudding 
Nothing says comfort food like a hot, gooey chocolate pudding. Adding tinned pears to the mix makes for a wonderful, filling dessert that can serve up eight people. Serve with ice cream and / or chocolate sauce.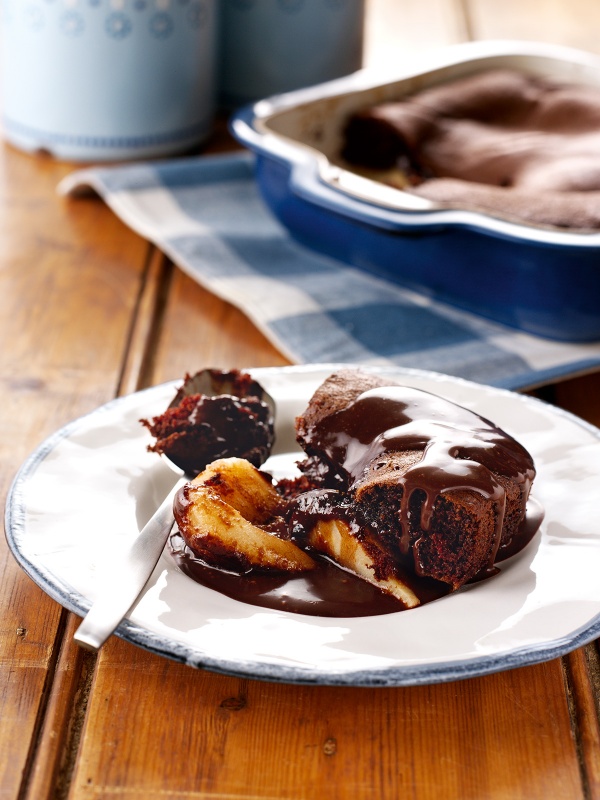 Image: Nigella.com
Toad in the Hole 
Toad in the Hole is a British institution. There's nothing complicated about it, just a pair of pork sausages housed in a Yorkshire pudding. But it's that simplicity that makes it the stalwart it is. Eat Like A Girl's recipe serves one, but can easily be scaled to cater to multiple hungry bellies.
Image: Eat Like A Girl
Corned Beef Hash 
Gather together the ingredients, bundle them all into the slow cooker and return home to a large pot of delicious comfort food. Serve Northern Lifestyle's recipe with a couple of slices bread and butter for full, authentic northern effect.
Apple Crumble Tart 
Paul Hollywood's recipe (via The Happy Foodie) is slightly different than the apple crumble recipes you'll be used to. That difference, however, results in a crispy, uneven crumble that adds to the home-cooked vibe. Delightful!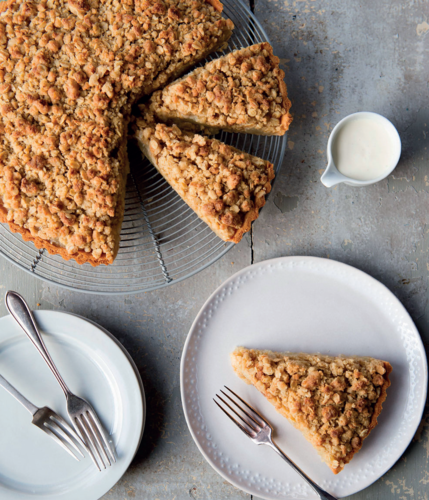 Image: The Happy Foodie
Chilli Con Carne 
This beef and kidney bean chilli con carne recipe typifies what Warren Nash is all about: simple, healthy dishes that can be made with minimum fuss. Pair it with rice or a baked potato for an enjoyable lunch.
Fish Pie
A traditional fish pie is a great dish for a family meal. Olive Magazine's white fish, haddock and prawn-filled pie yields enough for six people and can easily be frozen for future use.
Image: Olive Magazine
Roasted Breakfast Potatoes 
A bowl of porridge is probably the best way to prepare for those cold mornings. If you've a little more time on your hands, though, give Cookie + Kate's crispy breakfast potatoes a go. You'll love 'em!
Image: Cookie + Kate
Roasted Vegetable Lasagne 
Despite what a lot of the recipes on this list might suggest, winter warmer food isn't all about eating meat. Real Italian Foodies' veggie lasagne packs in courgettes, aubergine, red peppers, onions, garlic and basil for a Mediterranean dish that even hardened meat-eaters will love.
Image: Real Italian Foodies
Get the recipe
Winter's here early and it's sticking around until well into the New Year, so we're just going to have to deal with it. Fortunately, there are a few tried-and-trusted winter warmers to help us do just that!