It's apple season! From now until May you can pick up some of the finest apples that British farmers have to offer. What you do with those apples is what we're focussing on in this post.
One whole apple a day should be reserved to keep the doctor away, but any that are left over can be put to good use in any one of these 18 autumn recipes. 
Ultimate Apple Pie
There is no place better to start than with a classic, comforting apple pie. This isn't your run-of-the-mill pie, though; this one from BBC Good Food is ultimate, which means is better than anything you've ever had!
Image: BBC GoodFood
Apple Fritters
The Pioneer Woman's apple fritters – cinnamon batter-covered apple nuggets – can be enjoyed for breakfast or coated in sugar and served with ice cream for a mouth-watering dessert. Basically, they're good however you have them.
Image: The Pioneer Woman
Brown Butter Apple Loaf
The Kitchn's apple loaf is what happens when you take a tried-and-tested banana bread recipe and tinker with it. Bananas are swapped for apples, rum for apple brandy and the butter is browned to really draw out the flavour of the fruit. It's dense, it's rich and it's perfect with a cup of tea.
Image: The Kitchn
Apple Cider Sangria
As the cold nights draw in, summer cocktails can replaced with Country Living's Pinot Grigio and cider-infused autumn punch.
Apple Snow
Apple snow is a great dessert for kids and can be knocked up in a few minutes with only five ingredients.
Image: The Telegraph
Apple Cinnamon Pork Chops
Apples, sautéed alongside onions, introduces a sweetness that adds a new level of goodness to already tantalising pork chops. Classy comfort food from Gimme Some Oven.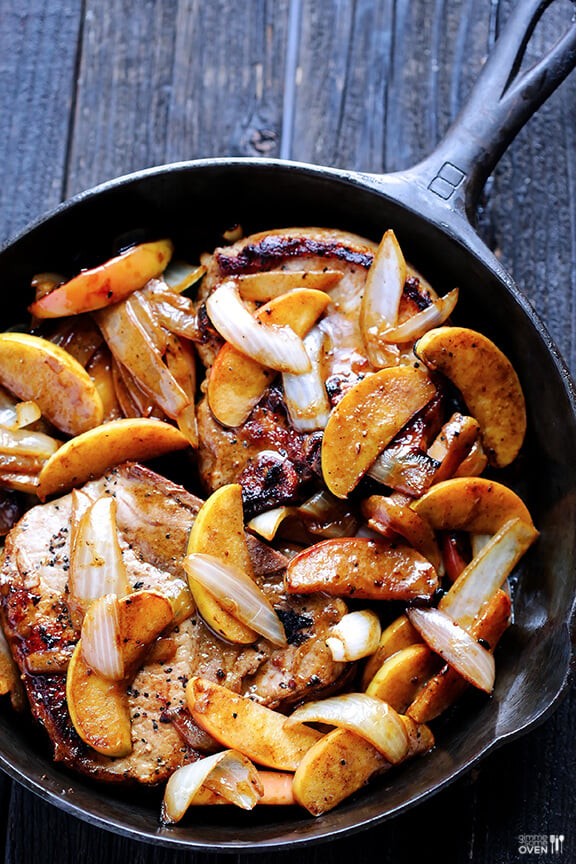 Image: Gimme Some Oven
Apple Cider Doughnuts
We've discovered something better than drinking apple cider…eating it in the form of a doughnut. Healthy Delicious combines cinnamon and nutmeg with the sweetness of the ripe apple for a warm, rewarding treat.
Image: Healthy Delicious
Free-From Apple Tart
We're not entirely sure what The Kitchn's apple tart is free-from, but it's certainly not flavour! Save yourself a bit of effort and time with this recipe by buying ready-made puff pastry and not peeling the apples.
Image: The Kitchn
Easy Apple Salad
Put some chopped apples in a bowl. Add pineapple, grapes, marshmallows and pecan pieces. Cover with sour cream mayonnaise and, voila! The easiest apple salad you'll ever make, courtesy of Eat At Home.
Image: Eat At Home
Apple Sauce
Roast pork without a side of apple sauce is like Mel without Sue; acceptable, but not fully satisfying. Delicious Magazine's tangy recipe is really easy to make and better than anything you'll find in a jar.
Image: Delicious Magazine
Apple French Toast
We're beginning to lose count of the number of times French toast has appeared on this blog. We can't get enough of it. It's versatile and never fails to deliver on the taste front. Country Living's offering uses thick-cut challah bread and sautéed Empire apples for a fulfilling breakfast dish.
Image: Country Living
Toffee Apple Cake
MasterChef winning chef Sophie Thompson's toffee apple cake is a substantial slab of cake that demands room in your belly. Save space to enjoy this after dinner with a dollop of ice cream and a drizzle of toffee sauce.
Image: Great British Chefs
Apple Cheddar Latkes
Apple and cheddar cheese are go-to after-school childhood snacks – something you could enjoy without spoiling your dinner. A Cozy Kitchen's latkes bring the two together in a tasty batch of fried bites that will most definitely spoil your dinner!
Image: A Cozy Kitchen
Baked Cinnamon Apple Chips
Sally's Baking Addiction's cinnamon apple chips (or crisps to we Brits), are a great alternative to a grab bag of Walkers. They're cheap, healthy and incredibly easy to make. They're not as convenient as a bag of crisps, but are most definitely worth the three hours of baking.
Image: Sally's Baking Addiction
Gregg Wallace's Tarte Tatin
Greg Wallace (the one with the glasses from MasterChef) knows are thing or two about a tarte tin – they bloody love a tarte tin on MasterChef! This classic dessert is one of his favourites, and isn't nearly as complicated as you might imagine.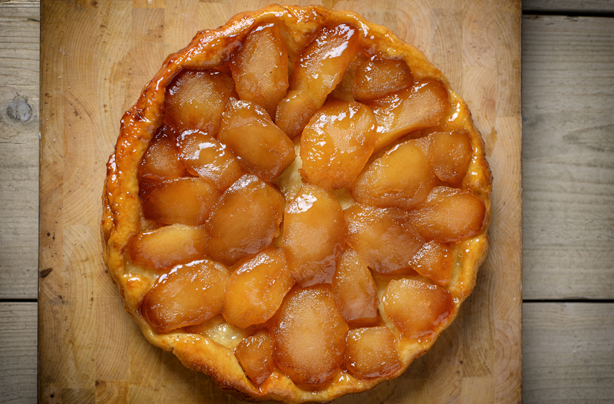 Image: Good To Know
Carrot Apple Ginger Soup
Carrots, apple and ginger together, and not in a cake. Joy the Baker's soup is colourful, delicious and properly good for you. And it's vegan too. Happy days!
Image: Joy The Baker
Mulled Apple Juice
While the alcohol drinkers sip from the jug of apple cider sangria, the non-drinkers can enjoy BBC GoodFood's orange peel and cinnamon-garnished alternative.
Image: BBC GoodFood
Peanut Butter-Stuffed Gourmet Caramel Apples
Sometimes an image says more than words ever could. This is one of those times. Just go ahead and follow Mississippi Kitchen's recipe.
Image: Mississippi Kitchen
It's apple season! From now until May you can pick up some of the finest apples that British farmers have to offer. What you do with those apples is what we're focussing on in this post.