A hand blender is a very useful piece of kitchen kit. Take ours for instance. It blends, whisks and processes at five different speeds. That's a lot of versatility in one product; enough – across its three attachments – to handle full recipes.
As testament to the versatility of the hand blender, here are 30 recipes covering dressings, soups, shakes and smoothies, to put your kitchen companion to good use.
Dressings
5 minute Hummus
If ever a situation calls for a last minute appetiser, Healthy Blend Recipes' garlic, lemon juice and tahini-heavy hummus gets the job done.
Guacamole Taquero
Great guacamole doesn't necessarily have to be crunchy, as this blended recipe by Chowhound proves. Serve it on nachos or tacos or in burritos.
Restaurant-Style Salsa
Nothing complements a big bag of tortilla chips better than a large bowl of salsa. If you don't eat all of it immediately, this recipe by Averie Cooks improves in flavour over time as the raw onion and garlic mellow.
Image: Averie Cooks
Homemade Burger Sauce
A good burger sauce can transform a burger from bland to bellissimo. Amuse Your Bouche's recipe does so by combining lettuce with gherkins, ketchup, mayonnaise and mustard – everything that belongs on a tasty burger.
Image: Amuse Your Bouche
Perfect Pesto
The Kitchn blends together basil, Parmesan, garlic, pine nut and olive oil to create a pesto that tastes as delicious in sandwiches as it does eaten straight from the bowl.
Image: The Kitchn
Jack Daniels BBQ Sauce
If you've ever been to a TGI Friday's restaurant, you know what sort of taste sensation we're dealing with here. If you haven't, here's the recipe to what you've been missing.
Blue Cheese Dressing
Mom On Time Out's blue cheese dressing pairs well with everything from wings to salad and can be ready to serve in less than five minutes.
Image: Mom On Timeout
Homemade Ranch Dressing
Simply Whisked's homemade ranch dressing is so good you'll probably end up drinking the stuff.
Image: Simply Whisked
Soups
Sweet Potato Soup
No matter how you serve them, sweet potatoes never fail to taste good. Babble's blended soup recipe is incredibly versatile in that sweet potatoes can easily be replaced by any other roasted vegetables to create a completely new soup.
Image: Babble
Butternut Squash Soup
The mild flavours of the ginger and cilantro allow the sweetness of the squash to take centre stage in this simple soup by Blender Girl.
Almost-Famous Broccoli-Cheddar Soup
We're not quite sure why this soup is 'almost-famous' – there certainly seems to be nothing holding it back.
Image: Food Network
Chilled Watermelon Soup with Mint and Ginger
You've enjoyed soup as a starter on plenty of occasions. Time to mix it up and eat it for dessert. James Beard's chilled recipe is perfect for those hot summer evenings.
Image: James Beard
Roasted Carrot-Apple Soup with Paprika Brown Butter
The nutty taste of brown butter perfectly accentuates the sweet and savoury combination of carrot and apple in a soup that's just the right sort of pick-me-up on a dull, rainy day. A great recipe from the archives of An Edible Mosaic.
Image: An Edible Mosaic
Tomato & Red Pepper Soup
A tablespoon of fresh basil and a dash of extra virgin oil add something extra special to House & Garden's already delectable tomato and red pepper soup.
Image: House & Garden
Tortilla Soup
Easy to make, healthy and as tasty as a pizza, Some The Wiser's tortilla soup is ideal for a midweek family dinner.
Image: Some The Wiser
Vegetarian Split Pea Soup
Hearty, filling and packed full of protein, 101 Cookbook's split pea soup ticks all the boxes. Try experimenting by adding broccoli or spinach to the original recipe.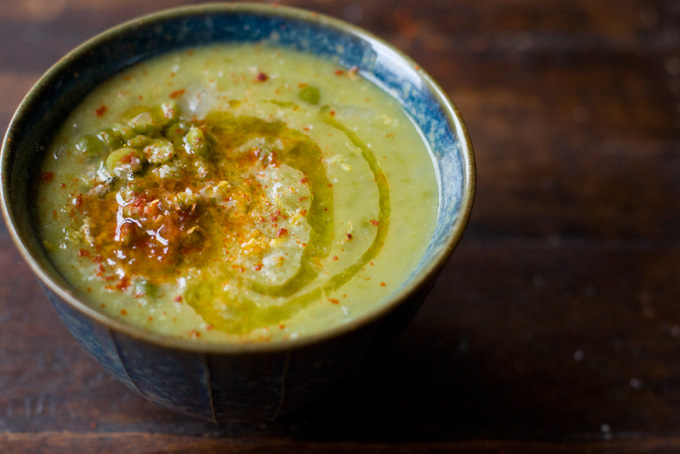 Image: 101 Cookbook
Milkshakes
Strawberry Mascarpone Shake
Rich mascarpone and vanilla bean seeds help to enhance the strawberry in this ice cream shake by Serious Eats, and it only takes 5 minutes to make!
Image: Serious Eats
Blueberry Milkshakes
Overripe blueberries work best for this milkshake. Blend with maple syrup or honey, vanilla extract, milk and two scoops of vanilla ice cream and serve in retro glasses for that authentic American diner vibe.
Image: BBC Good Food
Churro Milkshakes with Dulce de Leche
Churros are a popular Spanish fried-dough pastry snack, often served for breakfast with warm chocolate sauce. We'd never heard of them being served in a milkshake, until now. Kudos to Half Baked Harvest.
Image: Half Baked Harvest
Oreo Milkshake
Number 2 Pencil takes a classic Oreo milkshake recipe and introduces low fat ingredients – not that you'd ever know. A great shake that you don't have to feel guilty about drinking!
Image No. 2 Pencil
Any Pie Milkshake
Let's clarify something from the off: 'Any Pie' does not mean steak or chicken and mushroom – stick to the sweet pastries. The pie used by Completely Delicious in the picture is cranberry pear pie; chocolate, apple pecan and berry are all great too.
Image: Completely Delicious
Mint Brownie Milkshake
Good milkshakes tend to be a few of your favourite ingredients thrown into a blender. In the case of Love Pomegranate House, these favourite things happen to be two of the best things on the planet: mint chocolate chip ice cream and brownies!
Image: Love Pomegranate House
Smoothies
Creamy Mango & Coconut Smoothie
The combination of mango and coconut result in a refreshing tropical smoothie that's both dairy and soya-free.
Image: BBC Good Food
Tropical Blueberry Smoothie
Sticking with the tropical flavours, this popular Martha Stewart recipe uses pineapple, orange and blueberries to produce a smoothie that cures those mid-morning hunger pangs. If you'd rather not use sugar, try stevia instead.
Image: Martha Stewart
Orange & Banana Breakfast Smoothie
Brown sugar and almond extract add another level of flavour to the creaminess of the orange and banana in this simple five minute smoothie. A great way to start the day!
Image: Reader's Digest
Kale, Berry and Acai Power Smoothie
Strawberry, banana and blueberries offer classic fruit smoothie flavour, which is enhanced by the essences of the acai powder and complemented by a hint of cinnamon. A piquant, detoxifying smoothie that's full of protein and healthy fats. Start the day with Deliciously Ella's recipe to stay satisfied until lunchtime.
Image: Deliciously Ella
Mexican Frozen Hot Chocolate Protein Smoothie
If ever you're craving chocolate, but don't want the guilt of destroying a box Milk Tray, reach for this recipe by Steph's Bite By Bite. It's got all the chocolate flavour you're looking for, served with added protein in a peanut butter-rimmed glass.
Image: Steph's Bite By Bite
The Greenest Smoothie
Smoothies don't get any greener…
Citrus Energy-Boosting Smoothie
Leave the coffee in the jar; fruit, carrots and spinach combine in Best Health Magazine's smoothie to provide a natural pick-me-up. Each serving of this packed drink contains an impressive 30g of carbs, 4g of protein and 6g of fibre.
Chocolate Peanut Butter Protein Smoothie
If you're a fan of peanut butter then you'll know fine well that it's great however it's served. With this recipe, Sally's Baking Addiction has managed to create what can only be described as a drinkable Reeses peanut butter cup (which happens to contain 28g of protein!)!
Image: Sally's Baking Addiction
A hand blender is a very useful piece of kitchen kit. It blends, whisks and processes at five different speeds. That's a lot of versatility in one product. As testament to the versatility of the hand blender, here are 30 recipes to put your kitchen companion to good use.