No matter how much turkey you put away, there's always room for dessert. Christmas pudding is the perfect end to a Christmas lunch. A flaming fruit cake is a traditionalist's dream – an image straight from the front of a festive Hallmark card. Our classic Christmas pudding recipe is for those people that enjoy the old-fashioned elements of the big day.
Of course, fruit cake is not everyone's cup of tea. For those that aren't fans of the fruit-alcohol combo, scroll down the page a little – we've picked out a few alternatives that we think you'll love.
Traditional Christmas Pudding
What you need:
140g plain flour
1kg raisins
100g white breadcrumb
100g muscovado sugar
3 large eggs
250g butter (keep the butter in the fridge until it's needed)
225g candied citron peel
50g blanched almonds
2 cooking apples
1 nutmeg
2 tbsp brandy
For rum sauce:
4tbsp dark rum (replace rum for brandy if you'd prefer brandy sauce)
1 pint milk
55g butter
55g plain flour
55g caster sugar
What you need to do:
1. Start by peeling, coring and chopping the apples and chopping up the almonds. Put these ingredients in a large mixing bowl.
2. Grate about half to three quarters of the nutmeg into the mixing bowl. Add in the rest of the ingredients (expect the butter for now) and mix together until fully combined.
3. Grate about a quarter of the butter into the mixing bowl and give it good stir until it's fully combined. This might take around five minutes. If you're a traditionalist, take the opportunity to invite everyone to have a little stir and make wish.
4. Line two 2-pint bowls with butter and baking parchment and separate the pudding mixture between each. Cover with the bowls with a double layer of parchment and a layer of tin foil and tie it with string (here's a guide on how to do this from allrecipes).
5. Boil some water in large saucepans and allow it to simmer. Place the bowls into the saucepans and pop on the lid. Steam the pudding for eight hours, topping it up with boiling water when required.
6. Once the pudding is steamed, leave it cool completely before removing the foil and paper. Re-wrap and tie with string and place the pudding in a cool, dry place until it's ready to be eaten.
7. Before serving, steam the pudding for an hour and a half. Turn on to warmed plate. To flame it, warm up four tablespoons of brandy in a ladle over direct heat. Slowly pour it over the pudding and light it with a long match.
8. To make the sauce, melt the butter in a pan and stir in the flour. Keep stirring and bring the mixture to a boil. Stir until the mixture has thickened before lowering the heat. Stir in the sugar and leave the sauce to cook on a low heat for 10 minutes. Stir in the rum and transfer the sauce to a jug. Cover with cling film until needed.
The Alternatives
Not everyone likes Christmas pudding. If a flaming cake isn't really your thing, try one of these cake recipes instead:
Sticky Toffee Pecan Pudding
Sticky toffee pudding is always a solid choice of dessert – you won't find many people turning down a portion with ice cream or custard. Oh She Glows' version has almost half the fat and sugar of a typical recipe, yet loses none of the flavour. Oh, and its vegan, which will please even more people.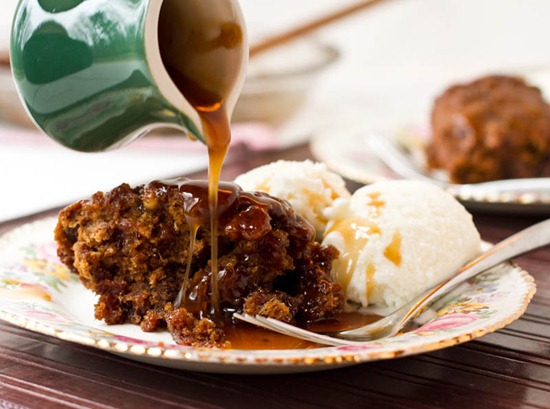 Image: Oh She Glows
Bûche de Noël – Nutella and Spéculoos
Any dessert that involves Nutella is always going to be worthy of a family dinner table. Gourmet Getaway's Bûche de Noël cake pairs everyone's favourite choccy-hazelnut spread with speculaas shortcrust biscuits for a rich, slightly spicy cake that please anyone with a sweet tooth.
You'll notice there are a lot of steps involved in making this cake (50!); don't be put off – it's really not that difficult.
Image: Gourmet Getaways
Mary Berry's White Chocolate Cheesecake 
Whenever Mary Berry puts her name to a recipe, you know it's good. This cheesecake from UKTV uses a combination of dark and white chocolate and tops the rich cream cheese filling with fresh fruit for extra appeal.
Image: UKTV
Chocolate Biscuit Christmas Pudding
At first glimpse, Gourmet Grazing's Christmas pudding looks like any other Chrimbo pud. Sink a knife into it, however, and you'll realise that this wonder of the world is made up of some of the best treats from your selection box.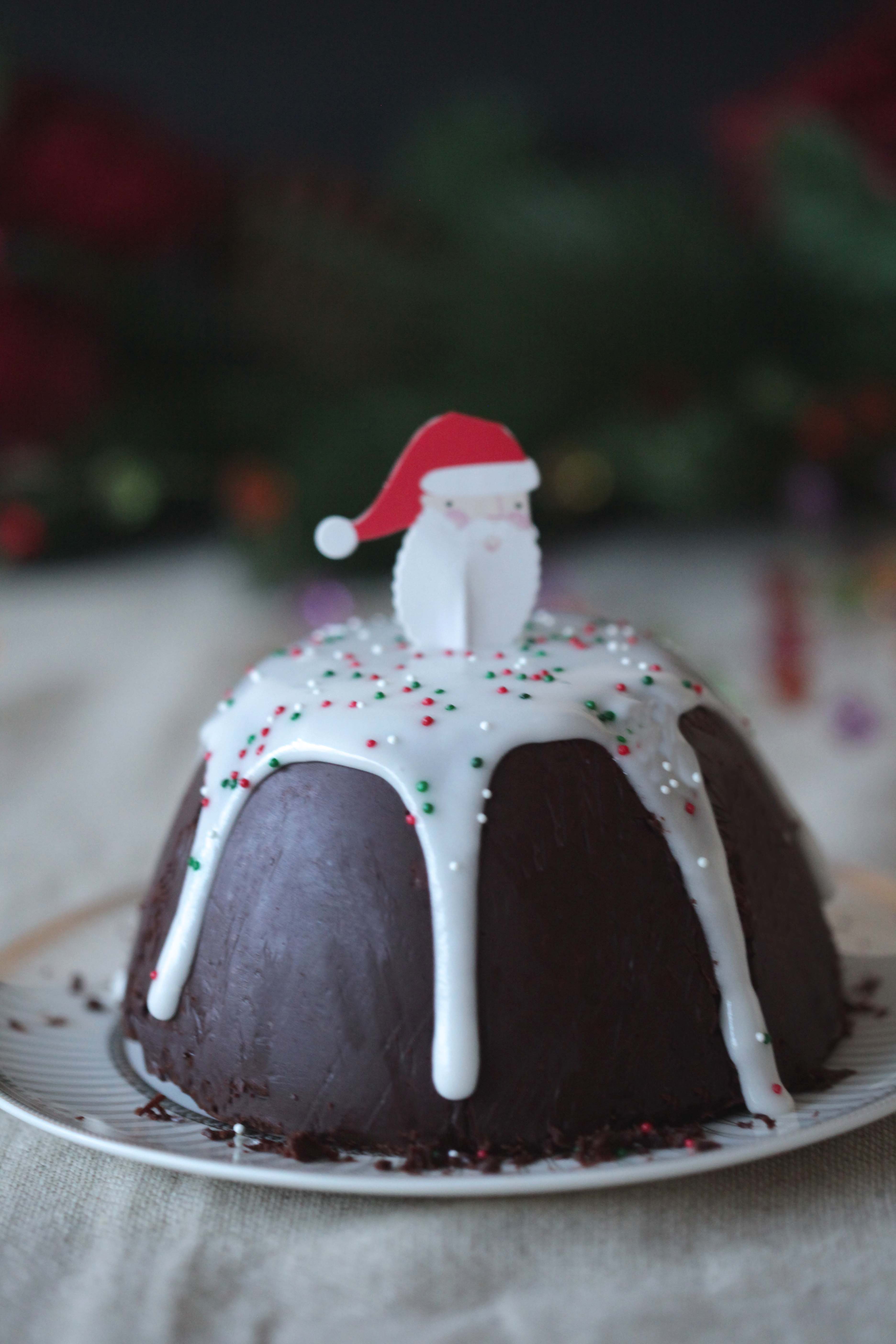 Image: Gourmet Grazing
Confetti Snowman Cake 
It's amazing what a little creativity can do to a standard white cake mix. With coconut for the body, liquorice for arms, raisins for eyes and Smarties for buttons, Pillsbury's snowman cake is almost too cute to cut up…almost!

Image: Pillsbury
No matter how much turkey you put away, there's always room for dessert. Christmas pudding is the perfect end to a Christmas lunch. Our classic Christmas pudding recipe is for those people that enjoy old-fashioned elements of the big day.